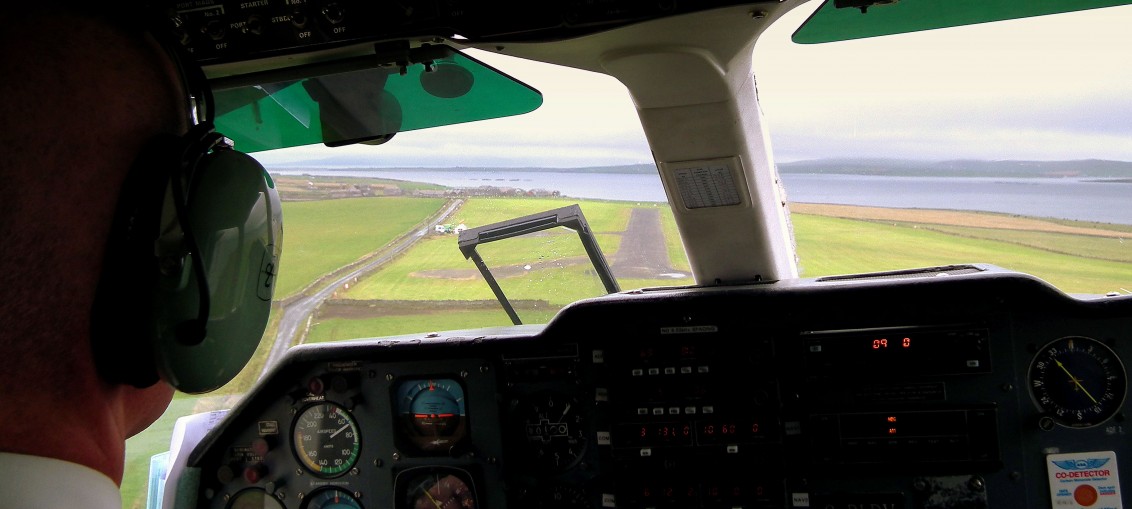 If you need to cross the shallow water that divides two small Orkney islands north of Scotland, your best option is to book a flight on a Loganair Britten-Norman Islander to make the overseas journey. Just don't expect drink service.
The 1.7-mile distance that spans the Westray Airport and the Papa Westray airport generally takes all of two minutes to complete the flight, but under ideal wind conditions it can be flown in as little as 47 seconds. A one-way excursion will set you back a mere $30. You could take the 20 minute ferry, but why would you want to?
Loganair is Scotland's domestic airline and franchise partner with Flybe. They operate two de Havilland Twin Otters and two Britten Norman Islander BN-2s, plus a handful of Saab 340 twin engine turboprops to haul passengers around the island nation. The BN-2 is ideally suited to transport you and seven of your closest friends to the tiny Papa Westray that has nearly as many archeological sites as it does residents.
According to the most recent census data from 2011, the tiny island's population is now at a whopping 90 people, up from 65 in 2001. At just over four miles long and one mile wide, the 2,270 acre island is home to 60 archeological sites with preserved homes exceeding 5,500 years old. While a majority of passengers are education personnel and the occasional health professionally or patient, the island has become a popular tourist attraction when the airline began offering day trips to customers.
Loganair has been operating a flight to the island for around 50 years, with one pilot accumulated 12,000 trips during his 24 years of employment.
Also, you've got to love a plane sponsored by Scotch.
Comments