Boeing built 12 of the massive long-range 314 flying boats for Pan American World Airways which the airline used to carve out its niche at pioneering intercoastal routes from Havana to Honolulu and even Hong Kong to New Zealand. It became a pathfinder over the world's trackless jungles, deserts, and, of course, its oceans.
From a 1930s print ad, Pan Am had this cut-away drawing of the soon to fly Dixie Clipper before its maiden transatlantic flight. You can see that a technician was able to crawl through a passageway out to each of the engines and from the looks of things was able to hand spin the engine; à la hamster wheel incase of a mechanical failure. In truth, access was available in both wings so that repairs could be done in flight to any four of the engines. In the very lower section, a spare engine, 55 gallons of engine oil, and many of the harder to find spare parts were stored. Fuel was also stored in the hull as it added to buoyancy and helped keep the center of gravity low to reduce dangerous oscillations when landing.
Also visible are the smoking parlor, dining room, galley, passenger compartments (including a bridal suite), library, crew quarters, just about everything you could imagine to provide the utmost in luxury and comfort for its passengers.
Those who flew and worked for Pan American felt a distinction and a common pride, rarely equaled among other airlines' staff at that time. They called it "Clipper Glory" and pride at working for Pan Am sometimes held greater value to its employees than financial compensation. This was particularly true before World War II, when Pan Am was alone blazing a trail to intercontinental routes even in the face of global financial depression. It was about exploring new frontiers with adventure, romance, and sometimes danger.
The Boeing 314 Clipper was a long-range flying boat produced by the Boeing Airplane Company between 1938 and 1941. The massive wing was originally developed to lift Boeing's early attempt at a long range bomber with the XB-15 prototype to achieve the range necessary for flights across the Atlantic and Pacific Oceans. The XB-15 program was cancelled due to underpowered engines and financial support for developing this type of military technology was limited due to the pre-war economic and political climate.
Fortunately Boeing engineers were able to adapt the cancelled XB-15's 149 feet wing, and replaced the 850 horsepower Pratt & Whitney Twin Wasp radial engines with the 1,600 horsepower Wright Twin Cyclone.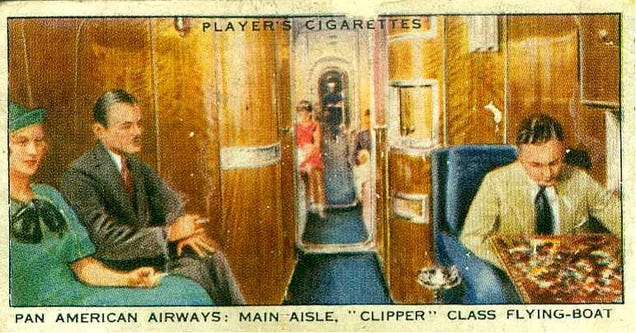 Nine of the 12 Clippers that were built went into service for Pan Am, but were later transferred to the U.S. military as the threat of worldwide upheaval became too much to be ignored. As the world slid further towards global war, it became clear that transoceanic aviation networks were absolutely critical – so much so that Pan Am was induced to sell three of the new planes to the British, already fighting a life-or-death struggle in Europe.
Sadly, none of the dozen 314s built between 1939 and 1941 survived beyond 1951 with all 12 having been scrapped, deliberately sunk, cannibalized for parts, or otherwise written off. The closest you'll be able to get at experiencing the original first class international travel is a life-size 314 mockup at the Foynes Flying Boat Museum, Foynes, County Limerick, Ireland standing at the site of the original transatlantic flying-boat terminus.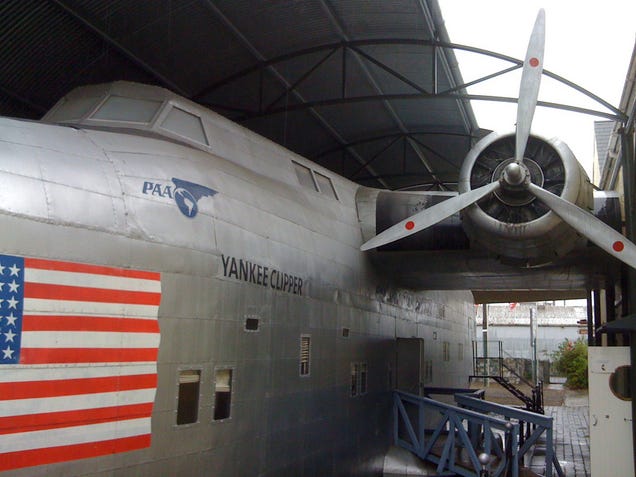 Photos: Wikimedia
Comments